It's common knowledge that getting enough sleep is critical to your overall well-being, but don't underestimate the impact of bed sheets for a restful sleep experience.  With a wide selection of fabrics to choose from, it can seem like a daunting task to choose the sheets that are right for you. That's why we're highlighting the benefits of three of our favorite sheet sets—Supima® Cotton, Bamboo Rayon, and TENCEL™ Lyocell—based on your individual sleep needs. After all, we are all unique, so why should it be any different for our sheets?
Let's start with the Suprema, ahem, Supima® Cotton variety, shall we?
Supima
®
Cotton Sheets
Did you know that not all cottons are created equal? In fact, Supima® cotton fibers represent less than 1% of the cotton produced worldwide! And if that's not impressive enough, Supima® fibers are grown and harvested exclusively in the U.S. Our Supima Cotton sheets are made from only the highest quality, extra-long staple Supima® cotton fibers.    
Did you know? The term "staple" refers to the length of a fiber. The longer the staple, the stronger and higher quality the fiber. So, a short staple fiber is generally weaker and more prone to pilling whereas an extra-long staple fiber is the strongest, finest quality there is!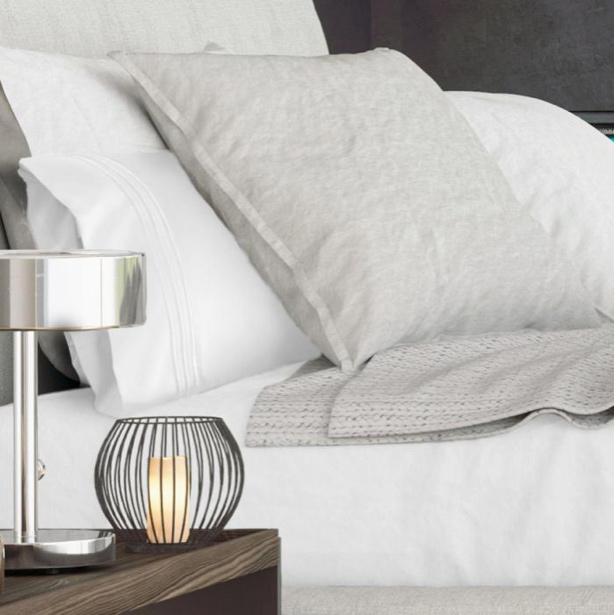 Supima
®

Cotton vs. Egyptian Cotton

Alas, you may now be wondering how Supima® Cotton differs from the well-known Egyptian Cotton variety that you hear so much about. There is one critical difference: quality. The name "Supima" is only used for premium extra-long staple cotton that is harvested exclusively in the southwest United States. The name "Egyptian" cotton, on the other hand, only tells you the country of origin, and doesn't actually relay any measure of quality, because Egyptian cottons vary from short to extra-long-staple. 
Supima
®

Cotton and Your Sleep Needs

While there is no 'one-size-fits-all' for bedding sheets, cozy and comfortable Supima Cotton sheets are as close as you'll get to pleasing just about everyone. They are soft and supple, breathable, and airy, and provide long-lasting comfort. It's the tried and trusted fabric that we're all familiar with and have all come to love- but with an even higher quality that one can only dream about. Well, until you try them that is!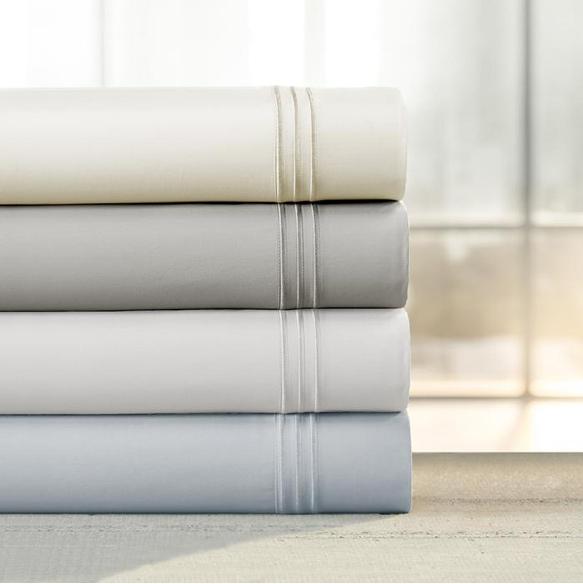 Supima

®

Cotton Highlights:

 
Soft and Supple
Breathable and Airy
Long-Lasting Comfort
Extra-long Staple Cotton Fibers

Superior, Premium Cotton

grown exclusively in the southwest United States

Natural, Lux Sheen
Rich Color
Safe from Harmful Substances
Earned the Prestigious:

Women's Choice Award
Be sure to check out our Supima® Cotton sheets & pillowcases to create your own personal sleep sanctuary.
Bamboo Bedding Sheets
The durability and lightness of bamboo rayon has solidified its place as one of today's best-loved and sought-after bedding fabrics. More specifically, our bamboo sheets are a blend of bamboo rayon with premium long staple cotton in a lush sateen weave, providing a rich, cozy comfort that feels like home. And, it's worthwhile mentioning that the comfort benefits of these bamboo/cotton blended sheets keep getting better night after night, wash after wash.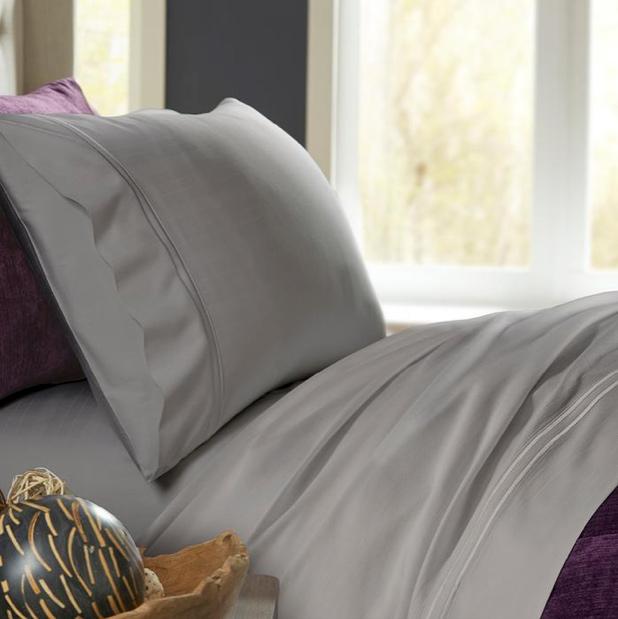 Bamboo and Your Sleep Needs
One of the features that makes Bamboo rayon sheets stand apart from others is its combined breathability and responsive moisture-wicking properties. If you tend to overheat at night, then the temperature regulating benefits of this premium Bamboo linen will surely catch your attention. It's natural ability to help keep you dry aids in a restful sleep throughout the night.
How tempting does it sound to just hop into bed under these Bamboo sheets right now?
Bamboo Highlights:
Soft and Supple
Long-Lasting Comfort
Moisture Wicking
Strong and breathable
Blended with Long Staple Cotton
Lush Sateen Weave
Maintains Color and Sheen
Safe from Harmful Substances
Earned the Prestigious:

Women's Choice Award
Be sure to check out our premium Bamboo pillowcases & sheets for cuddle worthy comfort that lasts!
Refreshing 100% TENCEL™ Lyocell Bedding Sheets
TENCEL™ is one of today's most recognized and popular eco-focused, semi-synthetic fibers. They are soft on your skin, smooth to the touch, and have a luxurious shine. But let's dive in to understand a little bit more about these amazing sheets.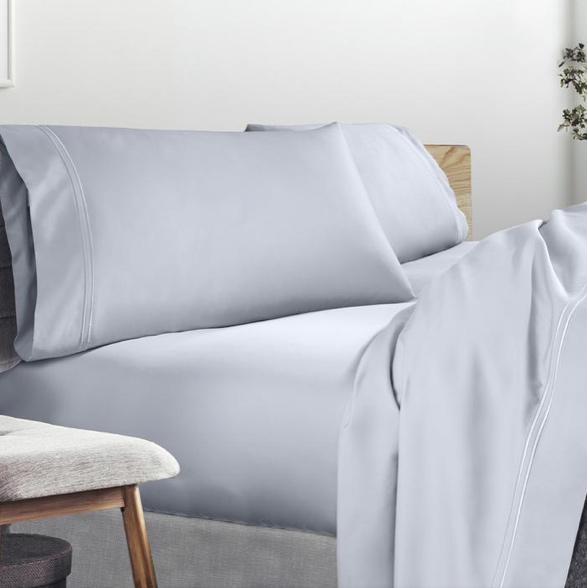 TENCEL™ and Your Sleep Needs
TENCEL™ sheets are loved for their sleek, silky drape and cool-to-the-touch sleep surface. And they provide significant value to those who appreciate temperature regulation and moisture management, as the sheets wick moisture away before they dampen. The unique fiber structure of TENCEL™ also happens to be wrinkle resistant. And who doesn't appreciate a little less wrinkling? So if you have a passion for unrivaled silky softness and comfort from eco-inspired bedding, then these sheets may be just the right fit for you.
TENCEL™ and Sustainability
TENCEL™ fibers provide breathable comfort with less strain on our natural resources through a balanced blend of responsible manufacturing practices and mindful material sourcing. TENCEL™ Lyocell fibers  are derived from sustainable wood sources, harvested from certified and controlled sources following the stringent guidelines of the Lenzing Wood and Pulp Policy.  Their eco-conscious practices require less pesticides and artificial irrigation throughout cultivation compared to other natural fiber sources. TENCEL™ bio-based fibers are also certified as both compostable and biodegradable, and are designed to fully revert back to nature. How cool is that? 
TENCEL™ Highlights:
100% TENCEL™ Lyocell
One of today's most popular semi-Synthetic Fibers
Natural Fiber Source
Silky Softness
Cool to the Touch
Gentle on the Skin
Moisture Wicking
Breathability
Eco-Inspired
Wrinkle-Resistant
Safe from Harmful Substances
Earned the Prestigious:

Women's Choice Award
Slip into a cool night's sleep with the silk-like comfort of PureCare's 100% TENCEL™ Refreshing sheets.
So there you have it: Supima® Cotton; Bamboo Rayon; Tencel™ Lyocell. Three of today's best-selling bedding sheets and how to choose the right one for you based on your unique sleep needs and wellness goals. But no pressure, really. You simply can't go wrong with any of these options!
The team at the Women's Choice Award has helped determine PureCare's eligibility for this award, which consists of a process that is completely objective, and based solely on real customer recommendations. Only the best brands earn the award, because a colossal 9 out of 10 customers must say they would highly recommend the product to their family and friends. 
We look forward to helping you get a better, and more beautiful night's sleep! 
Sleep tight, wake up right.